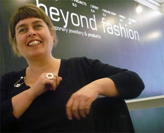 JUDITH BLOEDJES
Judith Bloedjes (1968), visual artist, wants to give ceramics the appraisal it deserves.
She designs objects of porcelain and silver.
She also uses this technique for her highly wearable, porcelain jewellery which have an industrial appearance. However, upon closer inspection they reveal a soft and sober character.
A journey into shape and form led to a broad diversity of unique specimens.
Bloedjes is also working on performances of fresh porcelain jewellery made live on model
in 'a catwalky' surrounding, often in museums...