Pauline Held
1984. Switzerland.

E-mail:pauline_held@hotmail.com
Telephone:+39 3497390181


Some words about my work...
My collection is made of forged silver buttons. I use the hammer in order to model the metal. This action provides a soft appearance to my pieces, a sense of lightness, even though they are made of a quite hard and heavy material. The buttons look like petals, flowers, seashells or other organic shapes. They are meant to be simple, joyful, sensual, colorful, innocent in some way.
I think that jewels are supposed to give happiness and that their value is also an affective one. My grandmother's button box was a real treasure to me as a child, and it still is! That is the way my collection began, wanting to create a small treasure to share with others.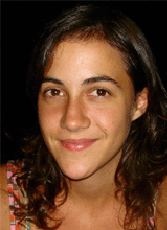 Silver ring with Gold detail
applied using "kumboo" technique
Hammered silver earrings
Ring forged from a single piece of silver