Mirjam Jakubowski
Website: www.jakubowski.nl
E-mail:info@jakubowski.nl
Telephone:+31(0)26 325 06 32
Address: Landslag 28,
6852 DZ, Huissen,
Netherlands.

Jewellery that initially focuses on the viewer's senses.
An investigation into inner movement, with the emphasis on the combined action between
design and choice of material.
The line pattern, which is full of playfulness, gaiety, moderation, simplicity or richness makes the work very distinctive.
Jewellery with a powerful aura!
Born in 1958 and brought up with Polish and Dutch norms and values.
After having gained several teaching qualifications,
her interest for expressive arts and design was still dominant.
During the end of the eighties she decided to make space for her love for art alongside her teaching activities. This resulted in an exciting combination of the visual arts, design and the goldsmith's trade.
Work commissioned by companies and private individuals, exhibitions in her home country, as well as in foreign countries, art events, cultural projects, workshops and lectures in her studio or on location.
Member of the Dutch Designer's Guild (BNO)
Participant of SIERAAD (JEWELLERY) 2006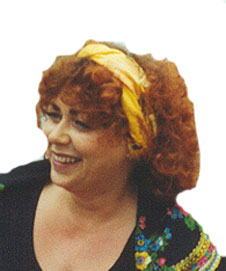 Gold and silver ring with peridot
Silver necklace with rock crystal
Gold ring with two pearls